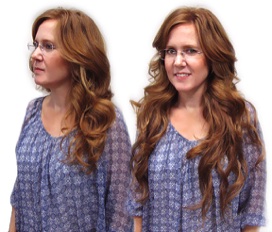 LET US HELP YOU FIND THE HALO YOU DESERVE
[ ASK YOUR STYLIST FOR DETAILS OR CALL 859.227-6444 ]
Quite simply, the Halo is one of the most amazing, fun and innovative products you will love to wear!
USING 100% INDIAN REMY HUMAN HAIR
The Halo is amazing in quality and the simplest and quickest extensions to apply!
And with the patent pending adjustable miracle wire, every customer can be sure that their
halo will be a perfect fit every time!
The Halo is worn by it being placed on your head, with your own hair pulled through and over the miracle wire. And that patented miracle wire comes with a lifetime warranty too!