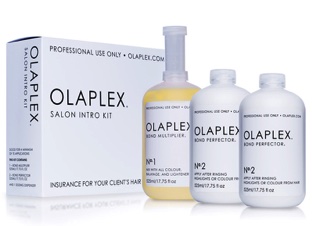 OLAPLEX® —THE NEW PARADIGM FOR HEALTHY
COLOR TREATED HAIR AT JOAN LESLIE SALON.
The integrity of hair is no longer compromised by chemical services thanks to OLAPLEX®, The #1 essential component in every color & balayage formula.
________________
Seriously, if your colorist hasn't told you about OLAPLEX® — well, you might want to make a change. Top Salons have discovered OLAPLEX® to be a game changer in hair coloring. We swear by it, because it works! Now colorists can push the envelope further without compromising the integrity of hair. From the photo shoot to the salon chair, colorists are set free from the fear of damaged hair.
________________
THE SCIENCE BEHIND OLAPLEX®
This product contains an additive that eliminates the bad reaction oxygen has with
broken sulfite bonds in chemically treated hair which leads to breakage.
Dean Christal, a beauty industry veteran and founder of Olaplex® was in the process of developing
a silicone-based alternative to Moroccan oil (soon to be available as well!) when he met with
UC Santa Barbara's Dr. Craig Hawker—one of the world's leading chemistry Ph.D's—
in hopes ofcompleting the process. After solving Christal's first problem, Hawker asked as an aside
"What is the holy grail of hair product development?"
"I had no idea what to tell him," Christal said over the phone last week. "So I said if a beauty company could keep chemical treatments from hurting hair, that'd really be something. He said he'd call me if he had any ideas, I wrote my phone number down, and walked out of his office. He literally called me 10 minutes later and said to come back the next day. When I came back, he and his partner Dr. Eric Presley handed me a jar of Olaplex that they had cooked on a hot plate in their garage lab the night before."